This page is archived. I have no time anymore to update ServerSpy and adapt it to new versions of Firefox. The final release of ServerSpy is version 0.2.3 [download archive], which is incompatible with recent versions of Firefox.
ServerSpy has always been open-sourced under the MPL/GPL/LGPL licenses. So feel free to grab the archive above and make any change you want. Just respect the terms of the license if you distribute it :)
Archived description:
What is Server Spy

Server Spy is a small Firefox extension that displays the brand of web servers (e.g. Apache, IIS, etc.) in the right-hand side of the browser window's status bar. When a tab is selected, Server Spy shows the name of the server that has served up the corresponding page.
The following screenshot shows the extension in action. The server name is truncated to the first space character. However, if you click inside Server Spy's area, a dialog pops up and gives the full sever name.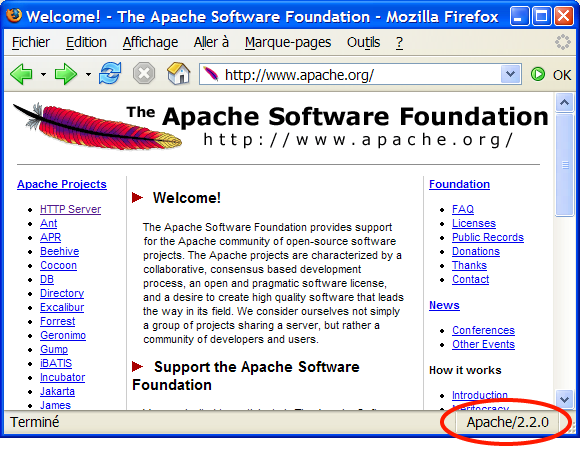 When you hover Server Spy's area, a tooltip gives details about the web server.
Server Spy is compatible with Mozilla Firefox, version 3.5 onwards (users of previous versions of Firefox may use earlier releases of Server Spy). It is available in English and French. The language is automatically selected to match Firefox's language.
Disclaimer — License
The current release of Server Spy is 0.2.3. It means that this extension is still in its infancy, and therefore may contain bugs, or even cause data loss! So use it at your own risk...
If you notice bugs or have ideas to improve this extension, feel free to send an e-mail to the author (see below).
Like Mozilla software, Server Spy is tri-licensed under MPL 1.1, GPL 2.0 and LGPL 2.1.
Changelog
Version 0.2.3, 2013-06—01

Adaptation to recent Firefox releases (the status bar badge was not displaying any more).

Version 0.2.1, 2010-11-15

Option to choose between the "status bar" and the "badge and balloon" interfaces.

Version 0.2.0, 2010-11-07

Made compatible with Firefox 4. New "badge and balloon" interface.

Version 0.1.6, 2008-05-20

maxVersion bumped to 3.0.*, which makes ServerSpy compatible with Firefox 3 final release.

Version 0.1.5, 2008-03-22

Bugfix release:

FIXED (critical): no longer use the variable gBrowser, which caused incompatibilities with other extensions under Firefox 3.
COMPATIBILITY: maxVersion bumped to 3.0b5.
NOTE: the extension is no longer compatible with Firefox 1.5.

Version 0.1.4, 2008-03-15

Fixes in French locale.

Version 0.1.3, 2007-11-20

This version adds compatibility with Firefox 3.0b4. It does not address potential problems nor adds new features.

Version 0.1.2, 2006-10-25

This version adds compatibility with Firefox 2.0. It does not address potential problems nor adds new features.

Version 0.1.1, 2006-02-11

Bugfix release:

FIXED (critical): on some configurations, server information was not refreshed when no information was available, thus leading to misleading information. The same bug prevented the pop-up dialog from opening.
FIXED: dialog was messed up when server string is too long
FIXED: an exception was regularly thrown (method "observe" not found in nsIObserver instance)
FIXED: an exception was thrown when closing the dialog

Version 0.1.0, 2006-02-09

First public release.
Why Server Spy?
Some wonder what the use of Server Spy is supposed to be: why would people want to know what software websites are running? From my point of view, Server Spy was a pretext to learn Mozilla technologies. And I am somewhat curious, so I find it interesting to know what websites run. Also, some developers seem to be interested in the server-side technology used by nice websites.
I do not want to try and demonstrate that Server Spy is useful for anyone in particular. I know it is a geeky gadget. I find it useful for myself, so I share it with anyone willing to use it. If you find it useful, well, use it! If you ask, I think that Server Spy is not for you, so do not use it. :-)
Author
Server Spy was written by Christophe Jacquet.

© Christophe Jacquet. Last updated on 2016-02-28.